Westconnex – M4E
idec was contracted to design, fabricate, and install (4) structural steel framing buildings(total of 405t) with metal acoustic cladding barrier for the WestConnex project.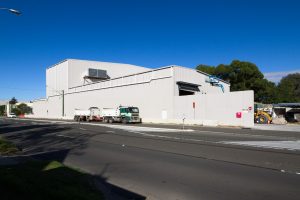 idec's scope of acoustic buildings work included:
CINTRA Park Tunnel Site (2200m2)
Underwood Road Tunnel Site(1575m2)
Concord Road Tunnel Site (3430m2)
Northcote Tunnel Site(5625m2)
WestConnex is 33 kilometers of a motorway scheme currently under construction in Sydney. The scheme, a joint project of the New South Wales and Australian governments, encompasses widening and extension of the M4 Western Motorway, a new section for the M5 South Western Motorway, and a new inner western bypass of the Sydney CBD connecting the M4 and M5.
Download the project sheet here: WestConnex
CLIENT

WestConnex

YEAR

2016

WE DID

design, engineering, fabrication, steel erection, concrete foundations and slabs, cladding

PARTNERS

Sydney, New South Wales

CATEGORY

Acoustic Solutions , Industrial

TAGS